There was little cheering in the sports world in 2020.
Hopefully that will change as the calendar turns to a new year with new and endless possibilities.
At least that's the wish from the Post Register staff to our readers and followers in eastern Idaho.
Most end-of-the-year top 10 stories are easy to put together. The package typically features the best of the best and those moments not soon forgotten.
In 2019, the Idaho Falls Bandits won the American Legion World Series and the Chukars won the Pioneer League title. Area high schools large and small celebrated state titles and rousing accomplishments. It was an exciting and thrilling year.
But 2020 was different. The COVID-19 pandemic permeated, and in some cases, dominated every phase of life including local sports. Some seasons were canceled while some seasons continued on in surges and spurts. Some players celebrated with trophies while others were relegated to quarantine. Schedules were in disarray as teams canceled games or couldn't travel. Masks and hand sanitizer became part of the sports landscape, as did social distancing.
And yes, even politics at times seeped into the sports scene.
But so did perseverance and probably a bit of stubbornness. As we enter 2021, area high schools are pushing through with their winter seasons, albeit under heavy health guidelines and restrictions.
Will there be a state basketball tournament in Nampa? Will there even be a spring sports season if the pandemic continues to rage?
Those will be questions for 2021.
With that said, here are the Post Register's Top 10 Stories of 2020. No social distancing required as we look back on a turbulent year.
1. Spring high school sports suspended and eventually shut down due to COVID-19 outbreak.
The Idaho High School Activities Association cancelled the remainder of the season, citing safety guidelines established by Governor Brad Little and the Idaho State Board of Education during the COVID-19 pandemic.
"Ultimately, they're doing it for the safety of our student athletes," Idaho Falls athletic director Pat Lloyd said. "That's what I try to remember when I get sad or angry. Our coaches don't do this for the money. They do this for the kids. My heart breaks for all our student athletes, especially the seniors. From coaching activities, I know the type of dedication they have. To lose out on the opportunity this spring, my heart breaks for them."
2. Sugar-Salem continued to dominate in 3A, winning state titles in boys basketball, football, boys and girls cross country and volleyball.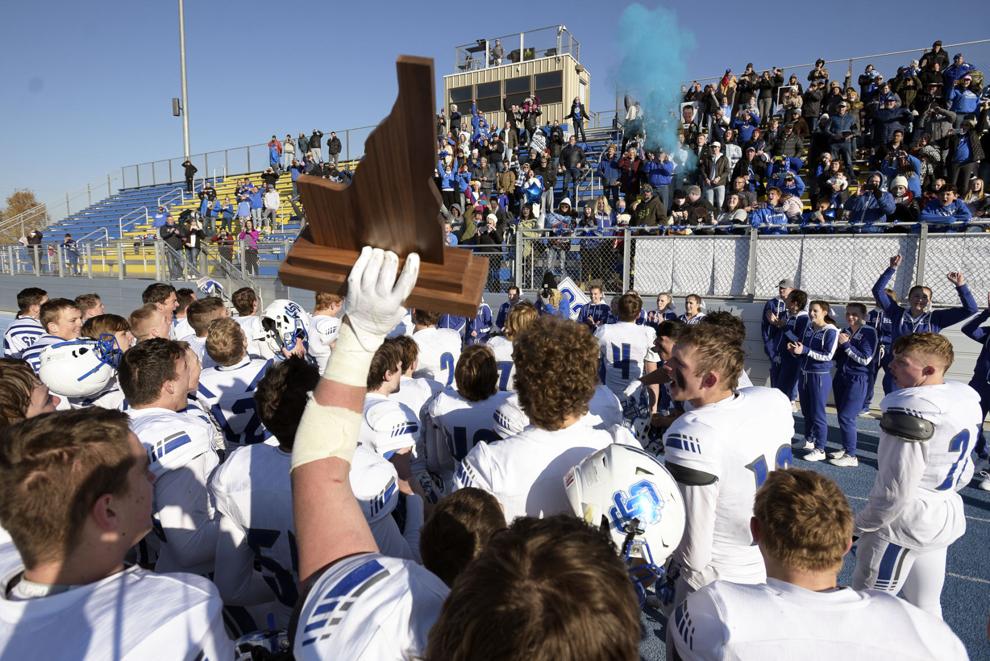 "It's just not in the character of these kids to roll over," Sugar-Salem football coach Tyler Richins said of the team's third-straight title, this one a 34-28 win over Homedale in overtime. "The starters, the second-string guys, the scout team guys, everybody — it's just not in our culture to quit and give up."
3. Bonneville wins 4A girls basketball state title, finishes 27-0.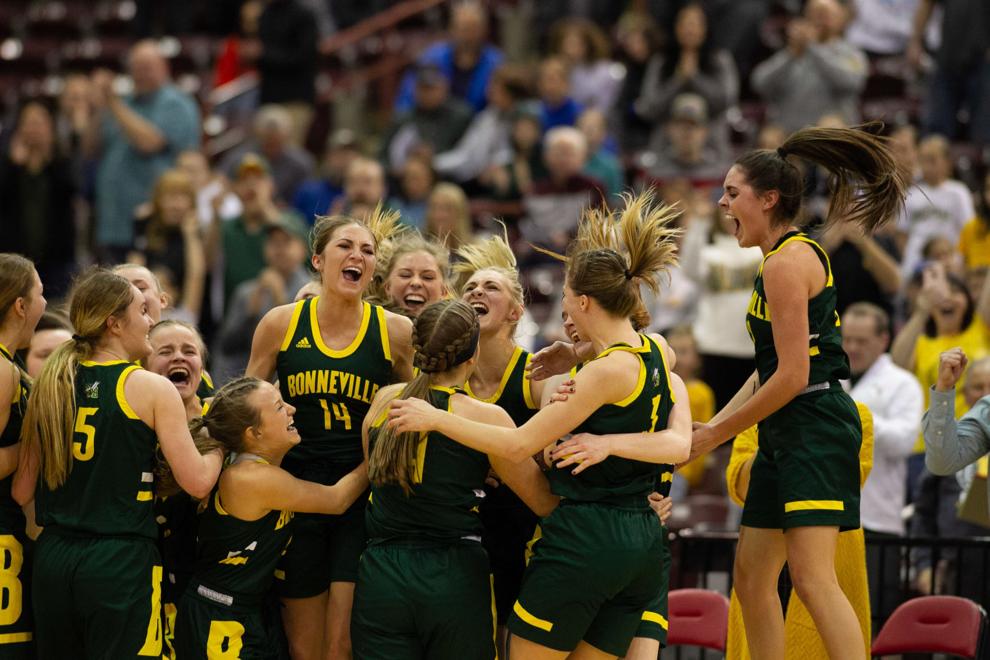 It was a perfect season for the Bees.
"I have no words," said senior point guard Sadie Lott, who had a game-high 24 points. "The first thing I said to Kayla Sorensen as I hugged her was, 'We did it.' 27-0 is so hard to do, and we did it. I'm so happy right now but also really sad. Nine seniors, this season has been the best. I'm so glad I got to play with them, but now it's all over."
4. Skyline football wins third state 4A title in five years.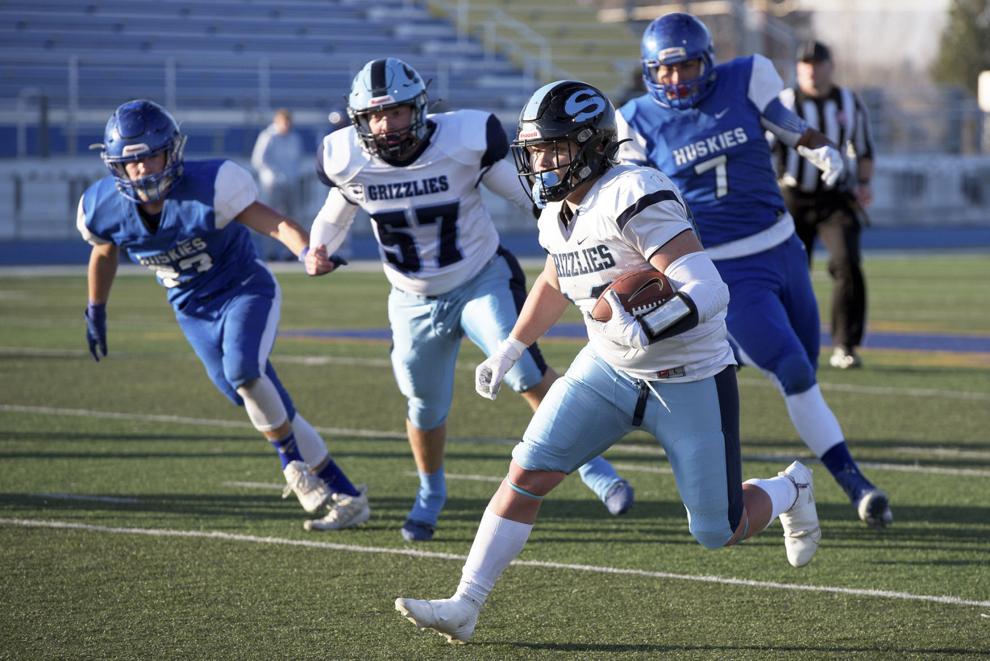 There's a dynasty brewing as the Grizzlies claimed another football title, downing Emmett 42-22.
"It's unreal," said Eli Ames, who snared four passes for 50 yards and two total touchdowns. "Me and my whole team has been dreaming about this moment our entire football career, and for us to have the chance to go out here and show what we can do and show how good we are, it's just unexplainable. It feels great."
5. Wrestling dominance as Ririe wins sixth straight state title.
Speaking of dynasty, the Bulldogs matched the longest dynasty in Idaho wrestling history, winning their sixth-straight team championship.
"At the start of the year we didn't really know where we were as a team, or whether we could get to this point," junior Connor Parkinson said. "But we kept at it, and here we are."
6. South Fremont wrestler Sawyer Hobbs won his fourth state title and helped lead the team to its first title in 35 years.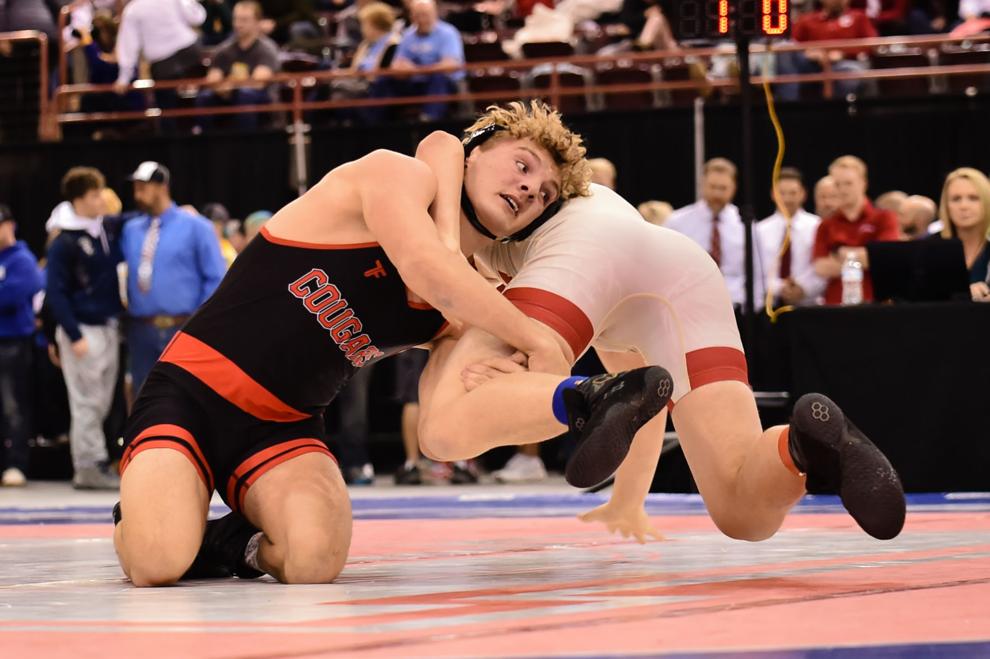 Hobbs win the 195-pound title, becoming the 23rd wrestler to win four Idaho state titles.
"We've been working for this, and the Upper Valley Aces (club team) is a big part of this win," Hobbs said. "We have great coaches, I have done what I can, and we have a lot of people stepping up to be part of this success."
7. After being shut down in the spring, high school sports resumes in the fall, but with COVID protocols and restrictions in place.
Temperature checks, masks, empty stadiums. That was the price to pay for reopening high school sports in the fall. But after a series of speed bumps, the season concluded and champions were crowned.
Even so, reactions were mixed.
Butte County football coach Sam Thorngren caught COVID-19, and while he was happy the season was underway, the virus took a toll.
"That's my internal debate every day," he said. "I do think we have a sense of normalcy and I think it's important the kids are getting a chance to play, and then there's other times you worry we're helping spread it.
"There's really not a right answer no matter what you do."
8. The Chukars' rollercoaster year ends with the team becoming part of a new Partner League with MLB.
The Idaho Falls Chukars were already on the chopping block as Major League Baseball announced a restructuring plan that would cut down the number of Minor League teams, including the Chukars.
And then the summer season was canceled due to the pandemic.
"It's the uncertainty that makes it difficult for us," general manager Kevin Greene said.
The Chukars eventually were dropped as a Major League affiliate, but the news wasn't all bad. The team and rest of the Pioneer League will now operate as a "Partner League" with MLB.
"We're ready to go," Greene said after announcing the new deal between the Pioneer League and Major League Baseball in November.
9. North Fremont wins second-straight boys basketball 2A title.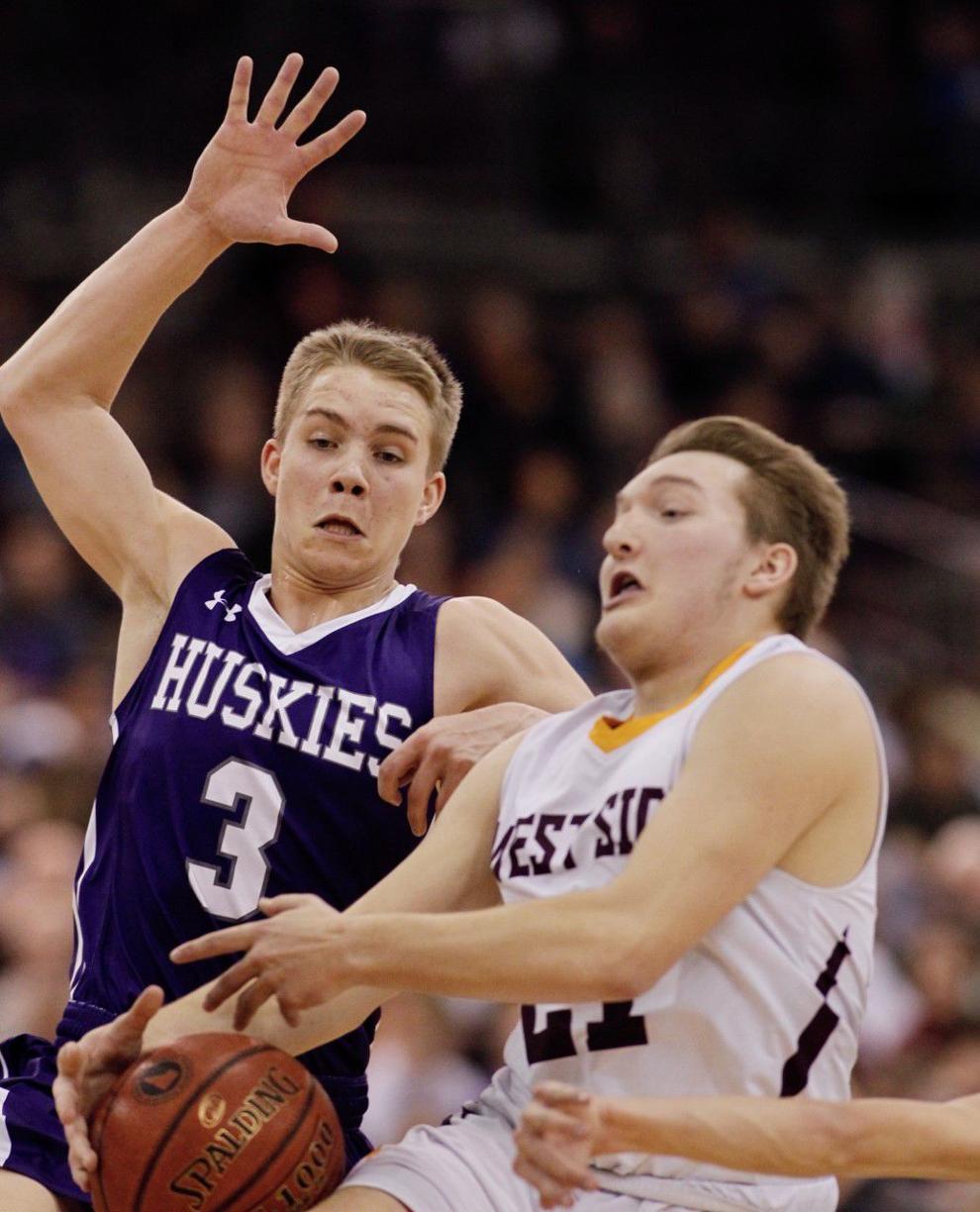 The Huskies may have been a surprise team on the way to their state title in 2019, but not so this past season.
The team was ranked No. 1 most of the season and took on West Side for the state title.
"I think it means everything," North Fremont senior Jordan Hess said after the Huskies celebrated a 42-37 win in the 2A championship game. "We proved everybody wrong. A lot of people doubted us … Everybody stepped up and it's amazing."
10. The state cross country championships are one of those events where anything can happen. Among this year's highlights was another state title for Idaho Falls and a record-setting run by a freshman.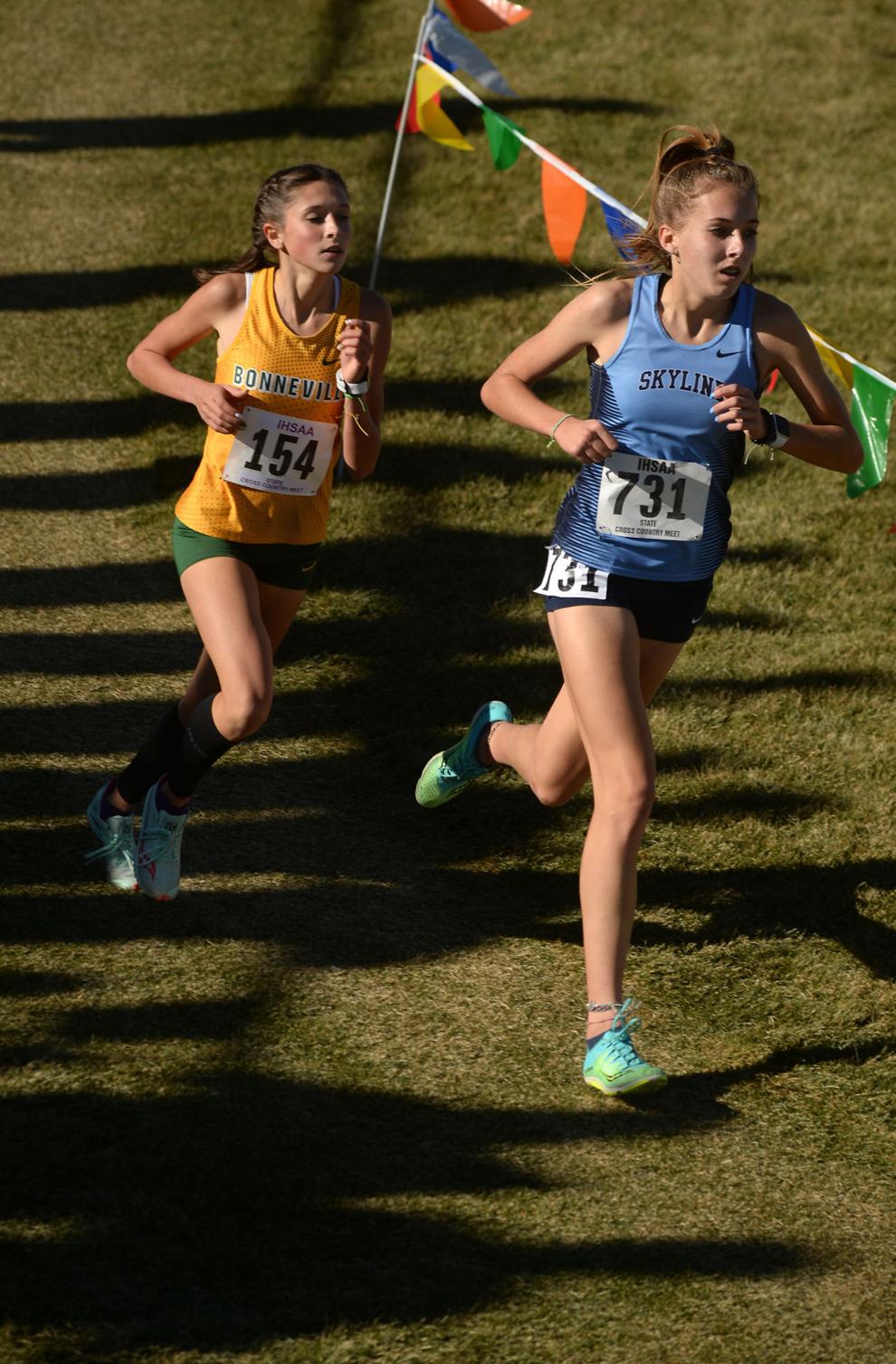 The Tigers boys team won its fourth straight team title.
"We knew we could do it and we were able to pull it off," said Mitchell Athay, who clocked 15:39.07. "We have a lot of confidence and it's always been sweet when we've been able to finish it out."
Sugar-Salem won boys and girls team titles, but perhaps the most impressive performance came from Skyline freshman Nelah Roberts, who ran 17:52.06 to set the mark for fastest 5K time recorded by a District 6 girl.
The first-place finish helped secure the team title for the Grizzlies.
-Greg Woods, Marlowe Hereford and Paul Lambert contributed to this story.