In the fall of 2016, Michelle and Rick Barber had just moved back to their hometown of Rigby and decided to attend a game at the couple's alma mater. The team was coming off a state semifinal berth the previous season. Rigby was in high demand, or at least the football team was.
When she arrived and the game started, though, Michelle squinted at the field. She spotted a startling spectacle — a Rigby player was wearing No. 7.
"I was like, 'What the heck?'" Michelle said. "'That guy's not supposed to have No. 7 on.'"
That's because 60 years prior, Rigby retired the number, which once belonged to Larry Wilson. The 1956 graduate played college ball at Utah before the Chicago Cardinals — who relocated to St. Louis soon after — drafted Wilson with the 74th pick in the seventh round of the 1960 NFL Draft.
Wilson authored an illustrious 13-year career with the Cardinals, becoming a first-ballot Hall of Famer, an eight-time Pro Bowler and the pioneer of the safety blitz. Wilson died of cancer in September 2020 at the age of 82, yet those in NFL circles regard him as one of the best players in league history.
But to those committed to preserving Wilson's legacy in Rigby, seeing a Trojan wear No. 7 underscored a disappointing theme that has developed over the last 50 years. City and school officials seem far less interested in protecting Wilson's memory, enacting measures over the years that allowed it to fade: Wilson's No. 7 came unretired, and when the high school changed locations in the late 1980s, officials disregarded previous school board members' vote to take the Larry Wilson Field name with it. The new stadium was named after Hyrum C. Blackburn, a physician who donated money and invested time into the track program in the 1990s.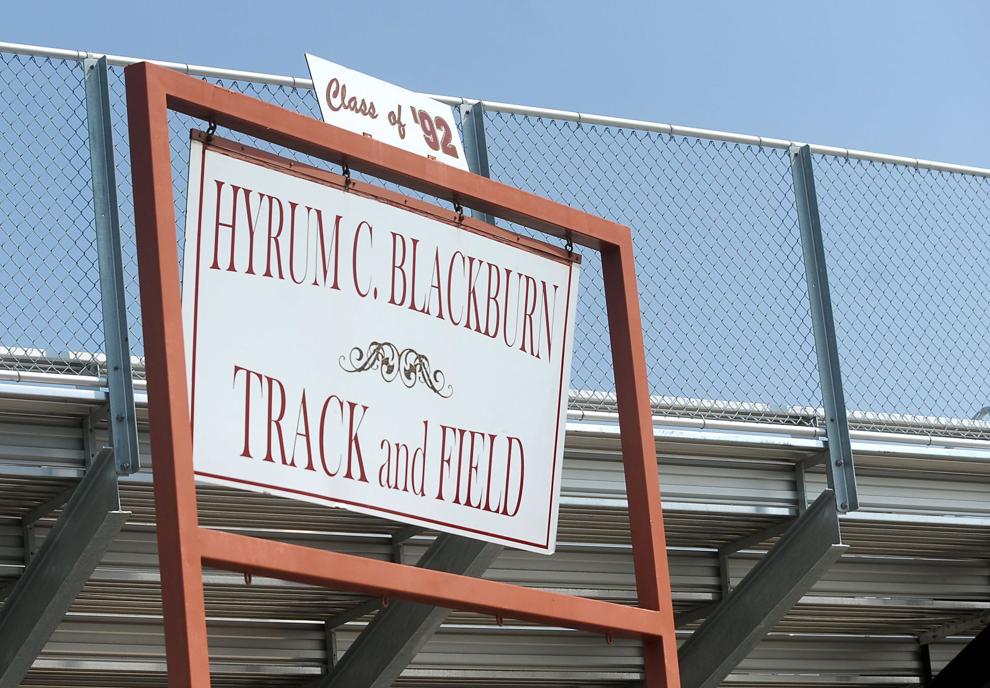 "The wrong people got mixed up in it," said Dick Broulim, a close friend and teammate of Wilson.
So Barber — a longtime family friend of Wilson — and her team of supporters have spent the last five years finding ways to reinstate physical reminders of Wilson, who they remember as a bastion of humility and hard work.
They have succeeded on one front. Two hours before Rigby's season-opener on Friday, the team will host a ceremony to honor Wilson, the only Idaho-born member of the Pro Football Hall of Fame. Officials will unveil the $20,000 Larry Wilson memorial that Barber and her team have been working toward since April. The 6-by-6 monument — complete with a bronze relief, career history and a quote from Wilson — sits right outside the stadium.
"That way," Rigby principal Bryan Lords said, "anybody who walks in, anybody who stands in the concession line or walks into the stadium sees that monument for Larry Wilson."
The memorial represents a victory for Barber, especially because she and her supporters have struggled mightily to secure the other part of their mission, to rename the field after Wilson. "It's taken the sting away a lot," Barber said. But the name of the field at Harwood Elementary, where the original high school was, remains Larry Wilson Field. So until the name makes the trip to the present-day field, they will feel their work is unfinished.
"It's the fault of the school district over the years that hadn't maintained that commitment to honor him," Rigby football coach Armando Gonzalez said. "I think that's wrong. As soon as I found out about that, I said, 'We're going to fix that. We're going to make that right.' What better way than to do that now?"
When he really tries, Chupe Brizzee can still hear the PA announcement in his head.
Larry Wilson, please report to the high jump pit at this time.
Brizzee, Wilson and the Trojans' track and field team were competing at a regional meet in Pocatello when meet officials needed Wilson for the high jump. But because of the event schedule, Wilson was busy competing elsewhere at the meet. So minutes later, another reminder reverberated around the venue.
Larry Wilson, final call for the high jump.
Finally, Wilson arrived for the event.
"And he took one jump — one jump — and won the high jump," Brizzee said. "To me, that was just phenomenal. He had not even jumped all day, and then one time, he took first place in the high jump. I'll always remember that."
Wilson cleared six feet with ease — "At that time, six feet was really quite high," Broulim said — but his friends remember the meet so well because it really highlighted the athletic gifts Wilson possessed. Wilson starred in four sports at Rigby, competing in baseball, basketball, track and of course football, where he played both ways: fullback on offense and linebacker on defense.
In games, his teammates remember, Wilson played with an intensity that others couldn't match. Friday nights brought a fire out of Wilson.
"When he was on the field, on the floor or on the track, it was all business," Brizzee said. "He didn't play favorites out on the field because we were friends. If we were in a tackling drill, he expected the very best out of the person, and it didn't matter if you were friends. If you were supposed to get tackled, you got tackled, and he knew it."
"Defensively," Brizzee added, "I loved playing behind him, because I knew that if anybody ever got past Larry, they would get past me too. But not too many people ever got past him, so I didn't do a whole lot of tackling. It was my great fortune to play right behind him."
Away from sports, though, Wilson left an impression on everyone he met for different reasons.
Wilson's mother, Doris, died from spinal meningitis when Wilson was 10 years old. So Wilson and his father, Frank — "Whitey" to most everyone — helped care for the youngest sibling, John. Wilson's days usually looked something like this: Go work with potatoes on a farm, go to school, go to football practice, then go to the movie houses and change the letters on the marquee. "That was a 14, 15, 16-hour day for him," Barber said. "And he was in high school."
Wilson's friends also remember a profoundly nice guy, a loyal friend. "Very loyal," Brizzee said. "No one could be more loyal than Larry Wilson was. Nobody." In fact, Wilson helped Brizzee feel welcome at Rigby when Brizzee transferred from Menan, whose high school burned down just before their freshman years.
Wilson also found hobbies in fishing and duck hunting. More importantly, though, his friends remember his humility. "He didn't brag about himself," Broulim said. "He was a good friend."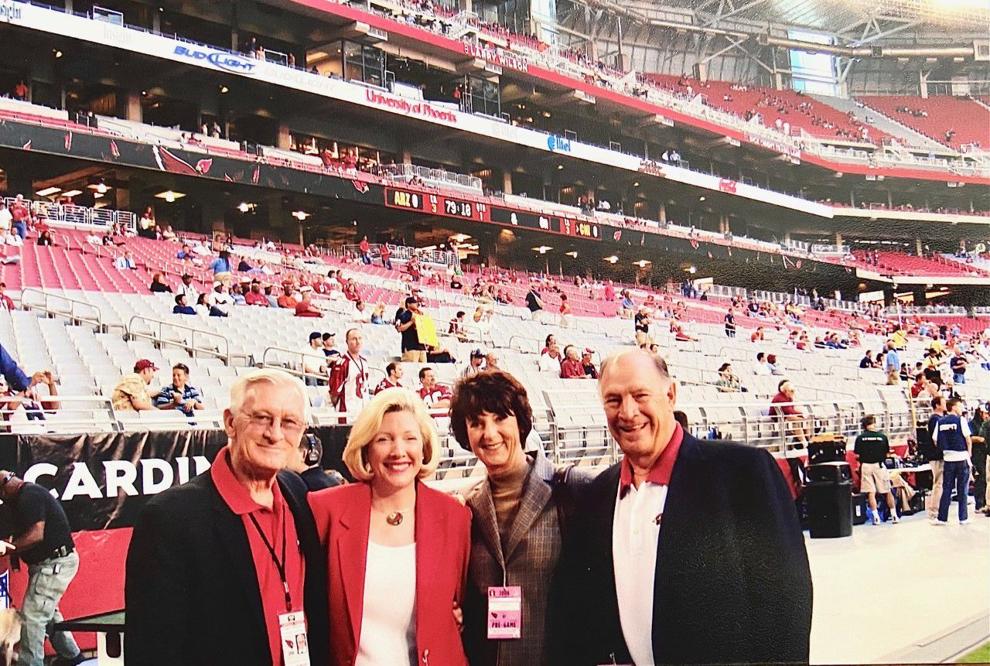 "Larry never tooted his own horn," Barber added. "In article after article after article about him, he turned the attention and the spotlight away from himself."
In that way, Wilson never changed, not even as a professional. Several years into his tenure with the Cardinals, the team approached him and told him the organization had raised some $80,000 in donations for a statue of him, right next to one of Stan Musial, a baseball icon in St. Louis. Wilson had already made a similar impact on the city.
But Wilson refused. Give that money to the local children's hospital, he said. They could use the money more.
"That's who he was growing up here," Gonzalez said.
Wilson has already cemented his legacy as a NFL legend. He holds the Cardinals' franchise record for career interceptions, 52, which includes a stretch of seven straight games with a pick. In one 1965 game, sporting casts on both hands to protect broken bones, Wilson snared another interception. He returned it some 30 yards, to the 3-yard line.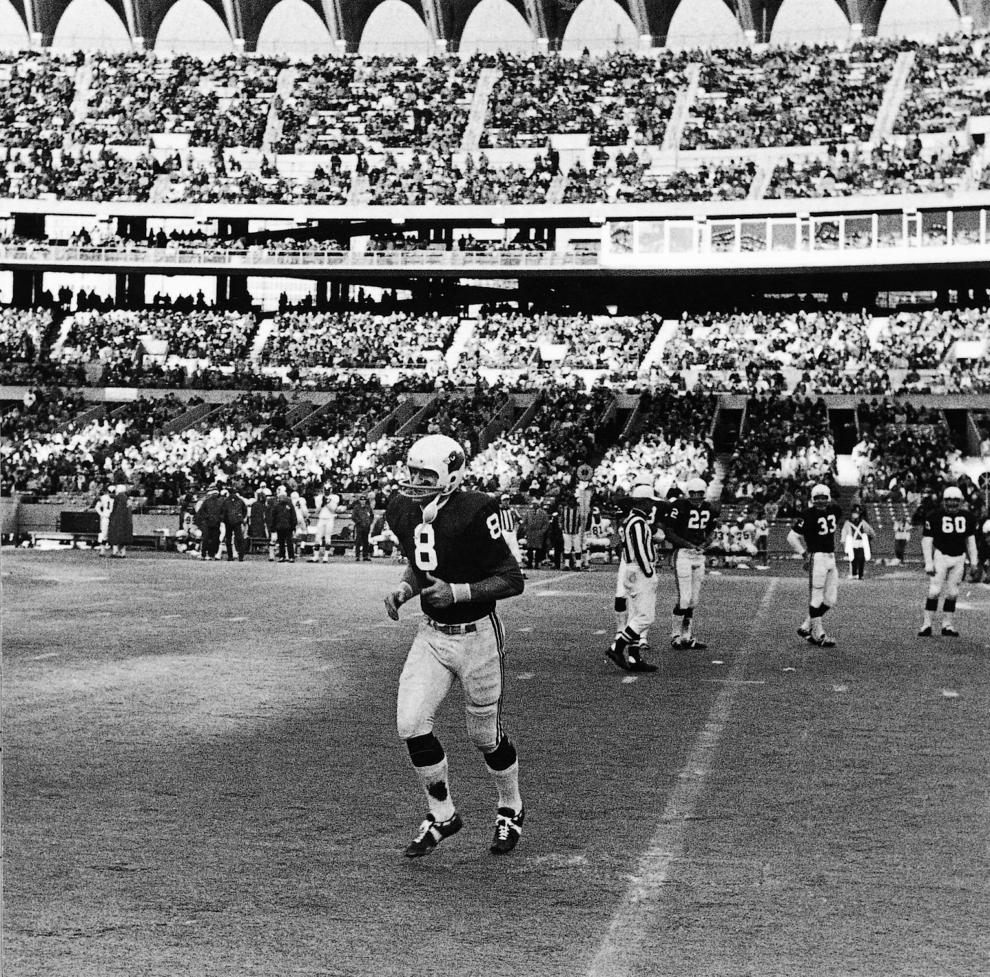 But in the estimation of those who knew him best, Wilson would rather have not received the acclaim.
"He did not seek personal accolades. He really didn't," Brizzee said. "He didn't want the constant spotlight."
Here, Brizzee paused for a moment. Then, he added this: "Though he got it by being the type of football player that he was."
The interesting part is that inadvertently, with that brand of humility, Wilson may have complicated the efforts of those who seek to honor his memory.
In 1992, around the time city and school officials agreed to relocate Rigby High School from downtown to near Highway 48, Jefferson County school board members made a decision. The field at the original high school would remain Larry Wilson Field. The stadium at the new high school would become Hyrum C. Blackburn Stadium, in honor of Blackburn, a fervent supporter of the Trojans' track and field program and a dedicated doctor for the football team.
The community admired Blackburn, which is true to this day, but that decision broke two rules. One: because Blackburn didn't die until 1996, the move went against the school board's policy to refrain from naming facilities after people until they had passed. The other was that in July 1967, the committee that put on Larry Wilson Day named the field in Wilson's honor with one key stipulation: The high school's field would remain named Larry Wilson Field wherever it moved in the future.
Bob Hardy, then a school board member who supported the name change to honor Blackburn, said he did so for a few reasons. For one, he explained, Blackburn supported the track and field team wherever it went, including at state meets in Boise, where he took the team out to eat. Blackburn, Hardy said, gave back to the community in ways Wilson did not.
Here is where things get murky, where Wilson's aversion to recognition gets in the way. Hardy supported the stadium's name change because Blackburn showed his face and helped out with Rigby's teams and, he says, Wilson did not. But Wilson avoided the spotlight and didn't announce when he was returning to Rigby in the summers, so it's possible Hardy and school board members just didn't know Wilson made frequent trips back.
"If he did, it was pretty quiet," Brizzee said. "He didn't come in with his chest out."
That theory has some teeth. In 1967, Wilson returned to Rigby and outfitted the football team with new uniforms and equipment. He made an effort to speak to youth organizations, in his hometown and in St. Louis.
But Brizzee acknowledged that during his days as a player and in the Cardinals' front office, where he spent more than 30 years, Wilson was a busy man. He never found time to return for class reunions. He took pride in his hometown — "He never denied he was from Rigby," Barber said — but when he became a Cardinal, he developed a steadfast commitment to the organization. "That was his life. That was his blood," Brizzee said. "That was where he shined."
So that much is up for debate, but the truth is that it shouldn't have mattered because the new school board had already decided to wait until the person died to name facilities after them, which would have prevented the board from naming the new facility after Blackburn, at least for another four years.
"I think people made a mistake in redoing that and naming it after him," Gonzalez said.
Still, nobody in the Rigby community wants to erase Blackburn's name in any capacity. Even those insistent on preserving Wilson's memory share reverence for the doctor, acknowledging that he played an integral role in their school's athletics programs. Taking his name off the stadium entirely, they say, isn't the right move.
"Well, what do you do with Dr. Blackburn, who put all that money into the track?" Broulim said. "So trying to make it fair to the Blackburns and the Wilsons — that's all we've tried to do."
So instead, Barber and her team's goal is to keep the facility named after Blackburn, but name the field Larry Wilson Field. "That happens all over the country," Gonzalez said. Plenty of venues around the United States, the coach pointed out, have separate names for the stadium and field: Arkansas has Frank Broyles Field at Donald W. Reynolds Razorback Stadium. Auburn has Pat Dye Field at Jordan-Hare Stadium. Missouri has Faurot Field at Memorial Stadium.
In some ways, it's probably what Wilson would have wanted. He seldom made things about himself.
"Those qualities are not promoted today," Gonzalez said. "We live in a very selfish culture, a very narcissistic culture that's all about me and what I can get right now out of people and circumstances, and I just don't think that's the right message to send young people. So if we have someone like that that's actually from our hometown, why wouldn't we celebrate that?"
Only a few clouds hang in the sky as Michelle Barber trudges through overgrown grass at Harwood Elementary in Rigby. On this pleasant August afternoon, she's walking toward the field, walking toward the dark brown sign on the back of the scoreboard: "Larry Wilson Field."
How much progress has she made in moving that name over to the high school field?
She cups her hand into a circle.
Almost a year has passed since Wilson died, which figures to line up with the school board's policy and pave the way for the field to adopt his name, but thus far, Barber and her supporters have failed to generate a vote to make the change.
So instead, Barber, Gonzalez and others put their heads together and spawned a new plan. Establish a scholarship in Wilson's name, re-retire No. 7 — which takes effect this season — and finally, raise money for field turf at the current field and name it after Wilson. "That's still in the works," Gonzalez said, "but it's definitely something we are working toward."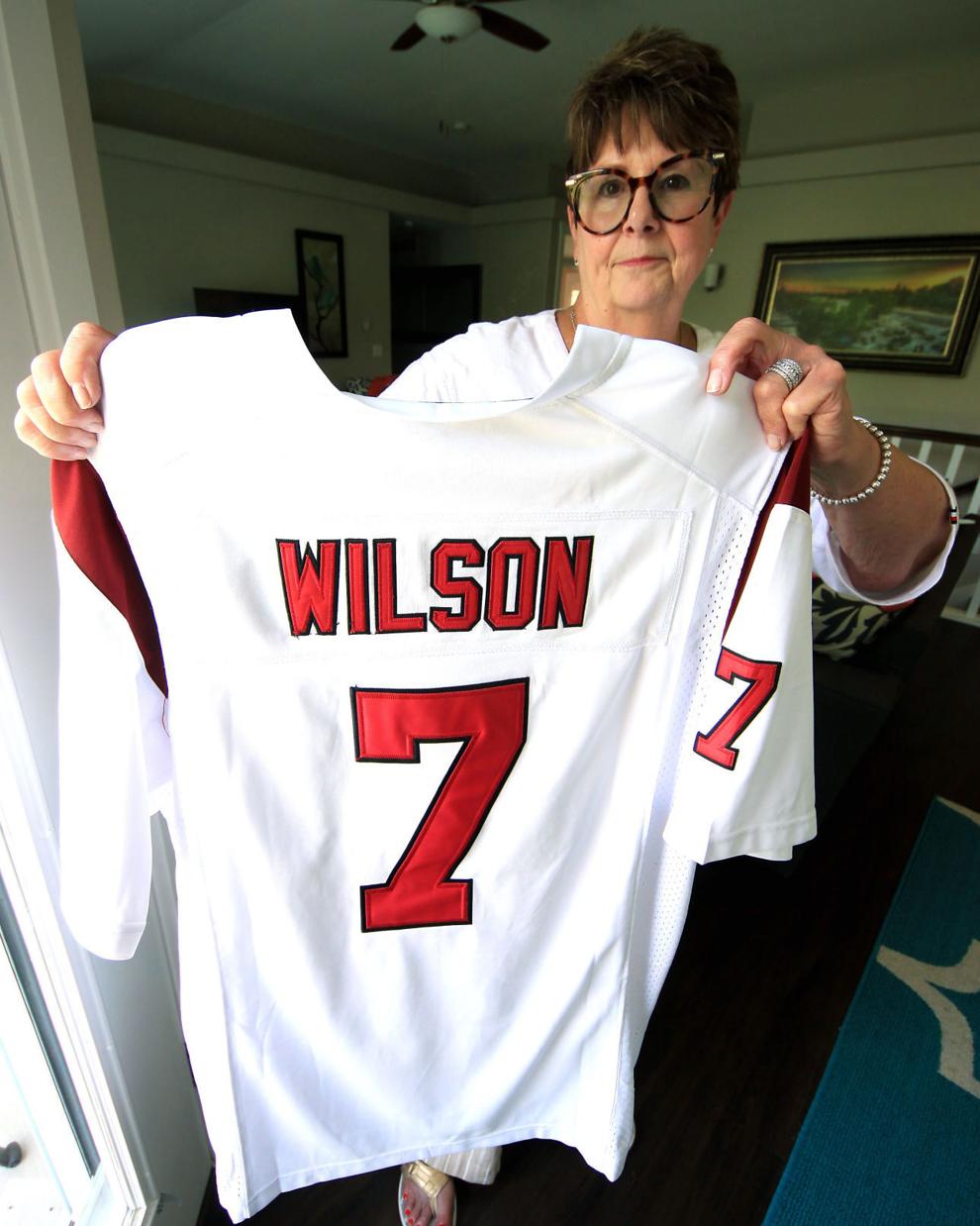 That's why Barber feels so happy with the memorial, which is wrapped in blue tarp until Friday evening's unveiling. She received donations from 27 businesses and 80 individuals from around the area, which demonstrates that people do care about preserving Wilson's memory and what he stood for.
For Barber, it dispels doubt. It reminds her why she took up this task in the first place.
"I start to wonder sometimes if maybe we've bitten off more than we can chew, or how important is this really?" Barber said. "And then somebody will say to me, 'Thank you for doing this. It's way past time.' So that makes me feel good, and it makes me feel like we're doing the right thing here to celebrate him."
The plan came together remarkably quickly. In April, Barber met with Lords, the Rigby principal, and Chad Martin, the Jefferson School District superintendent. She told them she wanted to install a monument for Wilson of some kind outside the school. She expected some delay, some school board vote that would prolong the process even more.
But Martin told Barber that he didn't need the school board's permission. He had the authority to give her that. So the monument had a green light.
"I was surprised," Barber said. "I thought, 'Well, this isn't what we had started out to do. But this might just be better. It might be just fine.'"
"The district fully supported it," Martin said. "It's a great thing for our kids to see somebody that's come from Rigby — back when Rigby was little old Rigby — and be successful, not only as a football player but also in the business end of it. It was an honor for us to be a part of it and be able to support the effort the community has put into it."
So at 5 p.m. Friday, the tarp will come off Wilson's memorial and there he'll be, back at Rigby, back to inspire for years to come. Barber's vision will come to fruition, at least most of it.
On a recent afternoon, the memorial in place and her mission completed, she thought back to one trip in a flight attendant career that spanned 45 years. Barber served Joe Namath, the NFL legend and Hall of Famer. She asked Namath if he knew Wilson. "Yeah," Namath said with a grin. "I know who Larry Wilson is." So when Barber told him Wilson hails from her hometown, her heart swelled. Rigby was on the map — thanks to Larry Wilson.
"I wish everybody in Idaho could have that same feeling," Barber said. "We have somebody to be really proud of. If we're divided by politics, race, religion, whatever it is, it's something like this that can bring a community together — and can bring the state together. To take pride in somebody that's from our roots, that's from here."