As Brooks Benson cruised down I-25, setting off on the nine-hour drive from Denver to Idaho Falls, he passed the time with a podcast. The newest Chukar had just invested in AMC and GameStop, so he decided to immerse himself in the stock market world, taking in more information about the orbit washing over the world like a tsunami.
In early June, a few days into his Chukars tenure, Benson brought it up in the clubhouse. It caught the ear of teammate Thomas DeBonville.
"Oh, you're an AMC ape?" DeBonville asked Benson, using the nickname for AMC investors.
"Oh yeah, I invested in GameStop and AMC as well," DeBonville said.
Soon, Benson and DeBonville discovered that pitcher Joe Slocum had made similar investments. So did Jordan Garr. Alexis Monge, too. They chatted about the stock market on the bus, on the field, in the locker room. The group parroted the rallying cry of investors across the world: "To the moon!"
The phrase didn't resonate with every Chukar in context of the stock market — in essence, it means investors want to see share prices of these volatile stocks increase, higher and "to the moon" — but they realized it didn't need to. Idaho Falls has boasted the Pioneer League's best offense for much of the season, so players embraced "To the moon" because they felt it aptly described their team's scintillating offense.
So now, what started as an innocuous conversation between Chukars teammates has transformed into something else entirely, a team motto that's less about stocks and more about fostering chemistry with each other. It's inspired confidence, celebrations, pictures — and a fresh batch of T-shirts.
"When I was there, and now, we were a very (good) offensive team," said Benson, who the Chukars released on June 6. "Plus the Pioneer League is known for its offense. So it just made sense that we started the 'To the moon,' and all of the sudden, it started catching on. Guys were hitting homers and left and right. It was really cool to see that it was catching on."
If you've been to an Idaho Falls game at Melaleuca Field, there's a chance you've seen the physical manifestation of "To the moon." When a Chukar records a double, after they reach base safely and call for time, they mime a euro-step — a basketball move to get to the basket — reach their arm into the air like they're going up for a layup and call out "aye!" Their teammates in the dugout mirror the arm action.
That celebration, courtesy of outfielder Matt Feinstein, is more basketball oriented. But when players reach their arm skyward, they remind each other — and thousands of fans in attendance — they want to take this offense to the moon.
The funny part is that only one Chukar has refused to celebrate: Brady West. A catcher, West isn't interested in basketball like his teammates, so the celebration doesn't make as much sense to him. The Chukars encourage him to try it, and they give him a hard time, but it's all in good fun — "friendly banter," DeBonville said.
"It was toward the beginning of the year, so nobody else thought of a doubles celebration," infielder Webb Little said. "It's fun to do something."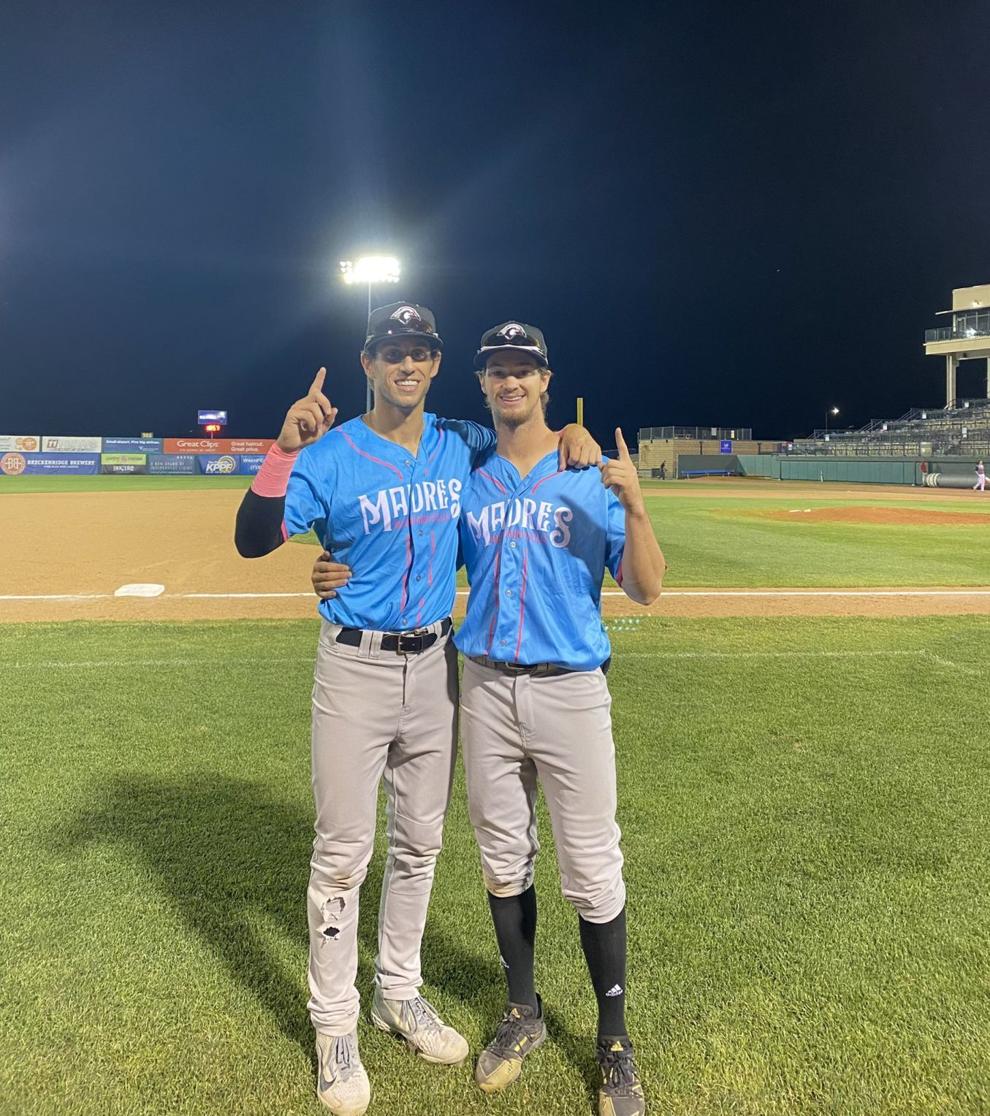 Thus far, they've had a bevy of opportunities to celebrate. Little (.391) and Feinstein (.390) rank first and second in Pioneer League Northern Division batting averages. Little, DeBonville and Feinstein have mashed 12 home runs apiece, which places them among the division's top five in homers. Plus, Little leads the league with 80 RBI, while Feinstein (76), DeBonville (68) and Andrew Don (58) fill the division's second, third and fourth spots.
As August approaches, the Chukars have made a habit of putting up scores that border on preposterous: 19-1. 20-3. 17-10. 23-5. Last week, when Idaho Falls registered run totals of nine, eight and eight in three wins over the Rocky Mountain Vibes, it almost felt underwhelming, like the Chukars were only reaching a star, not the moon.
"I think it's pretty neat. Guys are having fun with it," Chukars manager Billy Gardner Jr. said. "These guys, they work their tails off. They play hard. For them to have a little fun with it, it's great."
The other way the phrase has taken over the clubhouse is a little harder to notice. Earlier this month, assistant general manager Chris Hall sensed an opportunity, so he wanted to surprise the team with T-shirts. He stopped by Swanson's All-American Sports in Idaho Falls with a question: Can we get some "To the moon" shirts made?
The answer was yes, but Hall had to work with Swanson's to get the design right. He offered three different ideas, all centered around the motto in different capacities. "We ran with that," Swanson's employee Cyndee Storms said.
So graphic designer Melissa Devine got to work. She tinkered with different fonts, images, trends. Should the art include Melaleuca Field? No, she thought, maybe something with Babe Ruth calling his shot — something to represent going upward to the moon.
"Part of it was trying to visualize what other people would think of 'To the moon,'" Devine said, "and what maybe someone who just saw it would wonder."
Eventually, Devine produced four different designs. When she showed them to Hall, he knew which one he liked: The one with an arm pointed upward to a brush-stroke "To the moon" with a moon at the top. The only problem was that the pieces of clip art were a tad angled. When Devine straightened them out, they had a winner.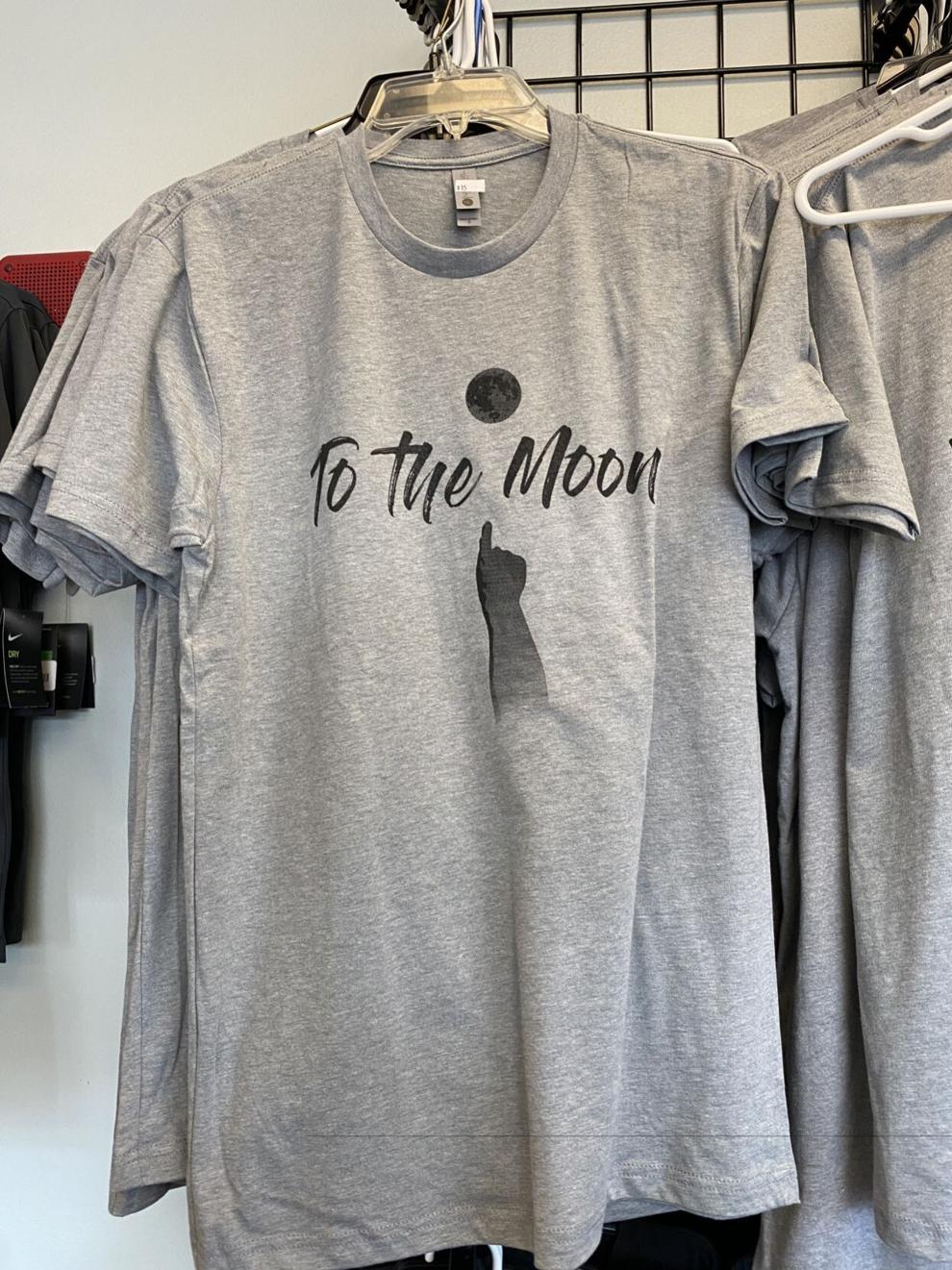 At the time, the Chukars were on a road trip in Ogden, Utah, so Hall's plan was simple: Make about 30 shirts — 25 for players and five for coaches and support staff, plus one to send to Benson — and hang one in everyone's locker for them to find when they return. Hall thought his work was done.
"Then we start realizing that when guys hit home runs, people will tweet at us, 'To the moon,'" Hall said. "You'll see fans in the crowd pointing up. So we're like, 'I think we could sell some of these shirts.'"
So instead, Hall worked with Swanson's to generate about 180 shirts, enough for the team and enough for fans. First, officials stocked shirts in the stadium gift shop, then they made them available for purchase online. "We try to take care of people who come to the ballpark," Hall said. As of July 23, he estimated, the team had sold about 50, at $15 apiece.
If there's one positive about the Chukars no longer being affiliated with MLB, this is it. In its affiliated days, the team could not have made the shirts, because they aren't licensed by MiLB. Plus, the process would become exponentially trickier: Longer design times, longer ship times, higher minimums, higher prices.
"You start to think to yourself," Hall said, "'Is someone going to come into the gift shop and spend $27 on a shirt that says, 'To the moon?' Probably not. Probably not worth our time."
Instead, the Chukars have made it worth their time with their performance on the field. Ahead of a six-game road trip against the Boise Hawks, set to start Wednesday, Idaho Falls has won seven of its last eight. The Chukars are 7-2 in the second half, tied for first in the Northern Division. As far as nine-game rolls go, they're certainly on one.
From here, there's only one way to go.
"It's cool to see," Benson said. "That fanbase in Idaho Falls was awesome in my time there. I absolutely enjoyed my time. It's pretty cool that they started going with it."