BOISE — Southern Utah's final basket was indistinguishable from so many others: a corner 3-pointer in front of the Thunderbirds' bench.
It was a fitting stamp on the day, as SUU made seemingly unending shots just like the final one, going 11 for 15 from 3-point range Wednesday in a 94-80 win over Idaho State in the opening round of the Big Sky Conference basketball tournament at CenturyLink Arena.
The 73.3 percent 3-point conversion rate is a season high for the Thunderbirds (15-15), who advance to Thursday's quarterfinals at the expense of Idaho State's season.
"One of the things we wanted to do was take away the 3," Bengals coach Bill Evans said. "I don't think I could make 11 shots out of 15 if no one was guarding me. We were trying to guard them."
SUU's 3-point shooting helped the T-birds erase ISU's 11-point, first-half lead, and held off multiple Bengals second-half comeback attempts. Idaho State (11-19) led 41-40 at halftime, but had to fight to cut Southern Utah's 72-59 lead to 72-68 with 6 minutes, 41 seconds to go in the second.
The Bengals missed nine of their next 10 shots after that, while SUU lived beyond the arc and at the charity stripe.
The first-round tournament win is Southern Utah's third in three years. ISU is still searching for its first conference tournament win since 2009.
"We made some runs, but we just couldn't get over the top," Evans said. "Southern Utah did a nice job at both ends of the floor. Well-coached. They played hard."
The early minutes of Wednesday's game went as well as they could have for Idaho State. The Bengals went 6 for 8 from the floor, including 3 for 4 from downtown, to build a 15-4 lead 4:58 into the game. ISU's defensive intensity persuaded Southern Utah into four early turnovers, which led to open 3s in transition.
But SUU found its outside stroke soon enough. After missing their first three 3-point tries of the game, the Thunderbirds executed their inside-out offense and cashed 11 of 12 treys the rest of the way, including all five after halftime.
Brandon Better went 5 for 6 from the arc, Jacob Calloway was 3 for 3 and Dre Marin went 2 for 2 to lead the onslaught.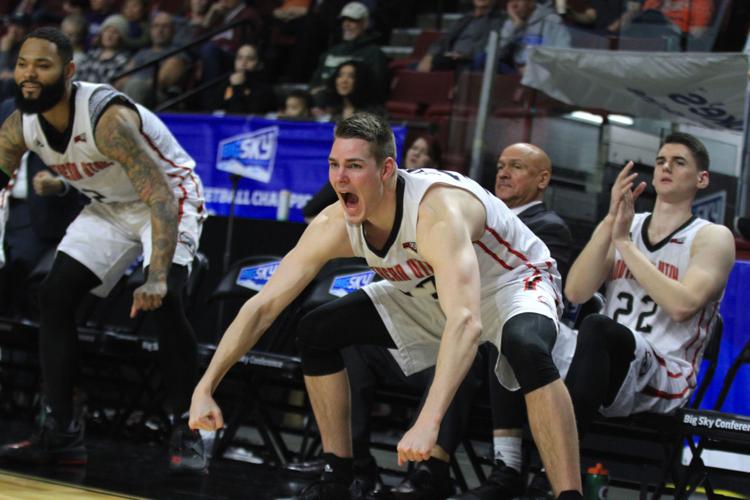 "We have guys that are very capable shooters," SUU coach Todd Simon said. "The key for us is we didn't want to hunt (3-pointers). We wanted them all to be catch and shoot, and we wanted them to be out of an inside-out or a ball reversal."
When the 3-point line wasn't open, Southern Utah pounded the ball into the paint. Bengals center Kelvin Jones was saddled to the bench with foul trouble for most of the game, eliminating SUU's biggest obstacle to get to the rim.
Andre Adams, Cameron Oluyitan and Harrison Butler took advantage, combining for 14 second-half points in the paint.
Jones, who came up huge in ISU's wins last week against Weber State and Idaho, ran into foul trouble all season. He fouled out with 5:38 on the clock Wednesday, finishing with nine points, two rebounds and two blocked shots in 14 minutes.
"Jones is a key part to their team. He's a big guy on the inside," said Adams, who led SUU with 23 points and eight rebounds. "He works real hard. We just took advantage of it. … It was good for us."
When Southern Utah went cold, ISU couldn't heat up. Better broke a string of eight consecutive misses with, what else, a corner 3-pointer, pushing SUU's 76-70 lead to 79-70 with 4:18 remaining.
ISU, meanwhile, missed seven straight shots — all 3s — between the 4:48 and 1:51 marks. Simon credited a switch to a zone defense as the key to slowing ISU's offense.
ISU shot 49.1 percent from the field, compared to 53.7 percent for the Thunderbirds. The teams combined for 28 turnovers, and SUU assisted on 21 of 29 baskets while making 25 of 31 free throws.
"We didn't get enough stops," Bengals senior Sam Dowd said. "We didn't have the same energy that we did in the first half, and I think that's what bit us in the butt."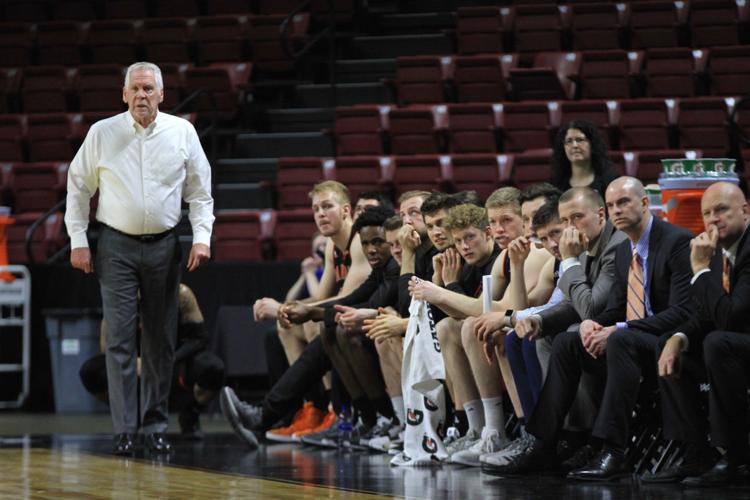 The loss ends the college careers of Dowd and fellow senior Blake Truman. Dowd earned his second start of the season Wednesday, scoring a season-high 12 points with two assists, one steal and no turnovers in 15 minutes. Truman didn't play.
Dowd was recognized last season with the United States Basketball Writers Association Most Courageous Award, honoring his path from homeless teenager to Division I basketball player.
Dowd's inspirational story made national headlines and added to his persona as the Bengals' small-in-size, large-in-life energizer.
"This guy right here changed my life, just by giving me an opportunity, taking a chance on a little guy," Dowd said of Evans. "It's deeper than basketball. So going out there and fighting for him today and for my teammates was all I was trying to do. It wasn't really about how many points I scored or if I was going to turn the ball over 10 times. I was playing for my guys. I was playing for my coach, I was playing for the Bengal nation."
Alonzo Walker battled inside for tough buckets Wednesday, finishing with a team-best 17 points and six boards off the bench. Stutzman added 10 points. Leading scorers Brandon Boyd and Balint Mocsan had nine and eight points, respectively.
Wednesday's game may also be the swan song for Evans, who in seven seasons as ISU's head coach has one winning campaign and no conference tournament wins. This season was his last under contract.
The Bengals expect to bring back a core of experienced seniors next season, led by Boyd, Mocsan, Stutzman and Jones. But whether they'll stay or go, or who they'll be coached by, is up in the air.
"I'm not happy we lost today," Evans said. "I'm not happy we won 11 games this year. I'm not happy with that. But I'm happy with the guys we went to war with every day."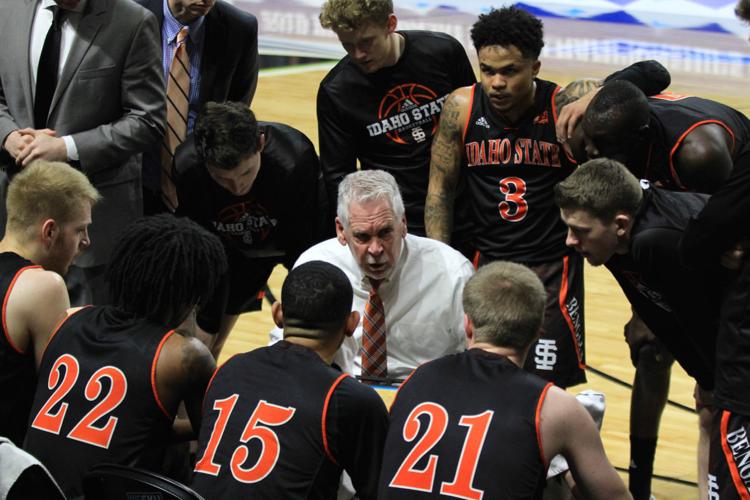 {a class="twitter-moment" href="https://twitter.com/i/moments/1105985738657546240?ref_src=twsrc%5Etfw"}VIDEO: Southern Utah 94, Idaho State 80{/a}
{script charset="utf-8" type="text/javascript" src="https://platform.twitter.com/widgets.js"}{/script}